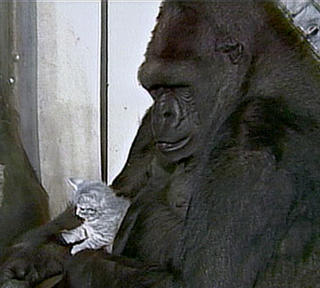 July 4th was the 34th birthday of
Koko
, a remarkable gorilla who has learned American sign language (Koko has a vocabulary of over 1000 signs.) I had not noticed that Koko's birthday falls on the day Americans celebrate their independence, but it seems poetically fitting that a creature who provides the strongest case for granting gorillas greater "personal" rights, what we call liberty, would have a birthday that falls on this date. Anyone who has seen the footage of Koko mourning the loss of her pet kitten knows what I'm talking about.
For more information on Koko and the effort to protect gorillas from extinction check out the
Gorilla Foundation
. And something else interesting, to me at least, was
this
forum discussion at the Secular Web in which one of Koko's caretakers, under the moniker 'Biff the unclean', answered questions about his work with Koko.